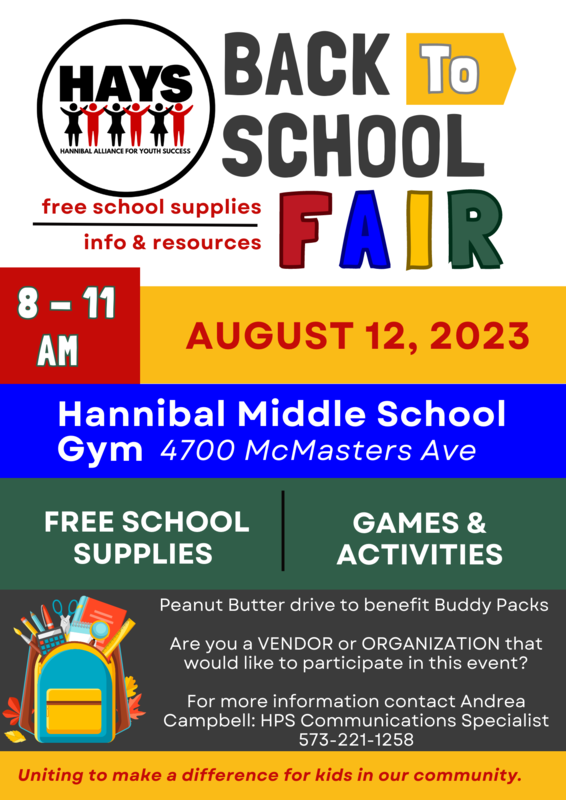 REGISTRATION IS NOW OPEN for sponsors who want to participate in the first annual HAYS Back to School Fair! In partnership with the Hannibal School District, the Back to School Fair will be Saturday, August 12, 2023, from 8-11 a.m. in the gym of Hannibal Middle School.
The Back to School Fair is open to businesses and community groups as a means to reach our district families in one place at one time. It is also intended to help our families as we distribute thousands of dollars' worth of free school supplies at the event. This is the first year for the event, and we plan to distribute supplies to approximately 450 students. The fees associated are used directly to purchase school supplies that are given to students in bags at the Fair.
"The Back to School Fair is designed to bring together local businesses, community groups, and our District families in one place to share valuable information, discounts and free school supplies in a fun and festive atmosphere," shared HAYS President, Denise Morriss, "It is beneficial to our families and our community and it's going to be a tremendous way to kick off the new school year."
To register as a Corporate Sponsor for the event, please complete this form, or give us a call and we will get you registered. Corporate Sponsors also get preferential table location at the Fair. Payment can be made via check, made out to HAYs (Hannibal Alliance for Youth Success) and mailed to 4650 McMasters Ave or via Paypal using this link.
REGISTRATION CLOSES FRIDAY JULY 7th
If you choose to pay by check, please make the check payable to HAYS - Hannibal Alliance for Youth Success and mail or drop off to:
HAYS
ATTN: Andrea Campbell 4650 McMasters Ave Hannibal, MO 63401
If you have any questions, contact HAYS at: HAYS@hannibal60.com or by calling 573-221-1258.